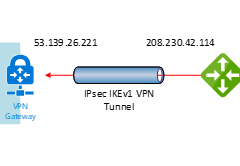 Comments Off

on Configuring CISCO MERAKI TO AZURE Site to Site VPN IPsec tunnel IKEv1 #Meraki #Azure #Cisco #IPsec #IKEv1
This document will show you how to step by step to configure Cisco Meraki to azure site to site VPN IPsec tunnel IKEv1.
If the Cisco Meraki Security appliances running firmware less than version 15.12 do not have support for IKEv2. Also, there is a bug at concurrent firmware 14.53 (confirmed by Meraki support engineer), when you build up a VPN non-Meraki peer with Azure, the all auto VPN peers will down and won't come back on line until you reboot the security appliance. Everything will be fine after reboot it.